While Rausch Coleman Homes has locations across several states, we're proud to claim our Arkansas roots. Considering Fall is just around the corner, and since this is right in our neck of the woods (quite literally), we thought we'd share just a few reasons why life in Northwest Arkansas just feels like... well... home!
You Can't Beat The View...
With its more than 50 state parks, seven National Park Service sites, and three national forests covering more than 2.9 million acres, Arkansas boasts some of the absolute best views of fall foliage and rolling hills. In fact, we even made Travel + Leisure's list of
The Best Places to See Fall Foliage in the United States
in 2017. Visitors can view nature's beauty from the 16,000+miles of Interstates, State Highways, U.S. Routes, and Special Routes, or if hiking, horseback riding, or off-roading is more your speed, we've got that too.
We might be a bit biased, but we definitely agree; whether it's the Ozarks or the Ouachita Mountains (pronounced WASH-a-taw), you simply can't beat watching the colors change as the seasons roll from summer to fall.
Get Your Motor Runnin'...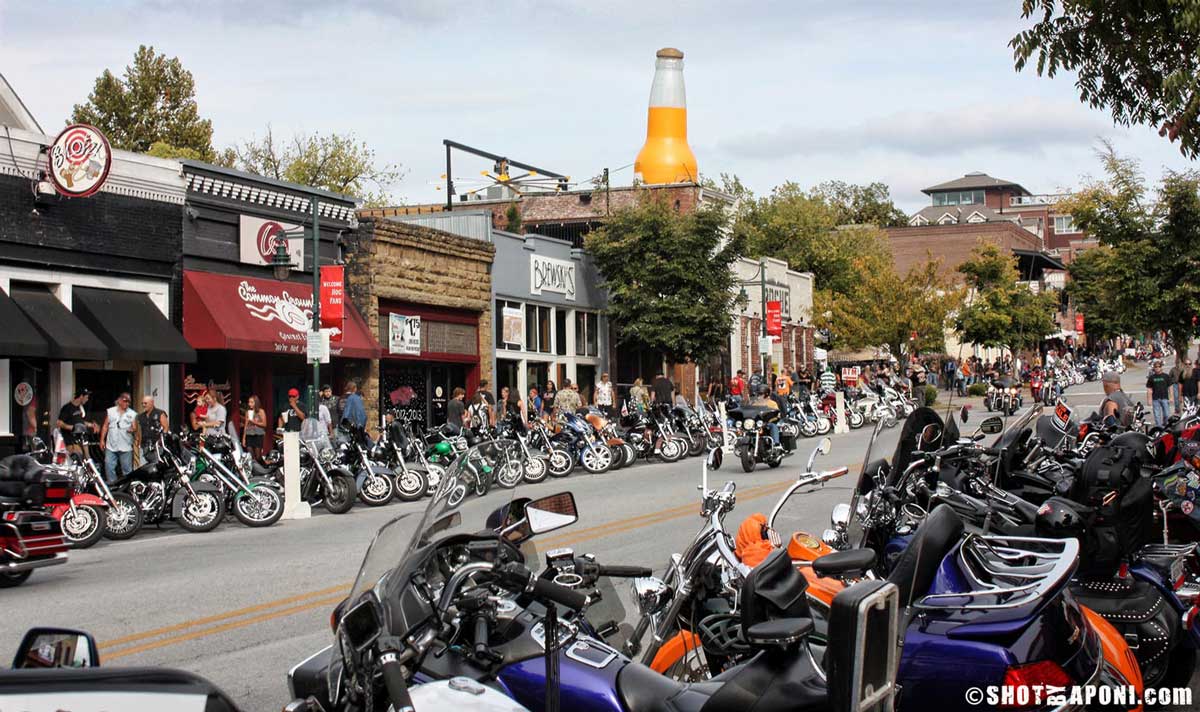 If exploring the open road on two wheels is more your speed, perhaps you'd like to check out
Bikes, Blues & BBQ
here in our own Fayetteville backyard. Billed as the "Largest U.S. Charity Rally," Bikes, Blues & BBQ is a family-friendly event that draws more than 400,000 bikers and motorcycle enthusiasts from around the world, and has realized more than $2million to various local non-profits. This four-day festival begins the final Wednesday of September each year, hosting music acts, food vendors, and many other exciting attractions.
A Land Of Culture...
Not only can visitors take in the beauty of the outdoors and a variety of fun family-friendly festivals. Northwest Arkansas is home to
Crystal Bridges
, a stunning museum boasting a collection spanning five centuries of American art, including iconic pieces such as
Rosie the Riveter
by Norman Rockwell, and Andy Warhol's
Dolly Parton
, and works of art by modern artists like Georgia O'Keeffe. In addition to the museum's impressive collection, the property itself is a work of art, with trails and other exhibits covering the entirety of its 120-acre site.
BONUS RESOURCE:
One of our favorite resources for keeping up with the ever-growing social landscape of Northwest Arkansas is
Leisurelist
, a locally-founded digital platform for staying in-the-know about happenings all around the area. Whether you're searching for exclusive galas and soirees, or if trivia night at the local brewery is more your taste,
Leisurelist
keeps track of all things social and helps you organize your agenda so you never miss another event again.
Great To Visit, Greater To Call Home
Rausch Coleman Homes
is proud to call Northwest Arkansas our home. With 16 residential communities at the time of this article's publication (and growing), we're committed to making housing affordable AND comfortable for
all
home buyers. Whether you're a first-time homebuyer or looking for your forever home to retire to, we think you'll love coming home to Northwest Arkansas. If you're interested in knowing more about our communities,
visit our website
or call 1-844-4RCHomes (844-472-4663) to schedule your very own tour of your new home. Even if you're not sure how much home you can afford, we can help with that too. Click the button below to use our free Buying Power Calculator to get an idea of what's possible; there's no risk, no obligation, and no credit check required to just find out.